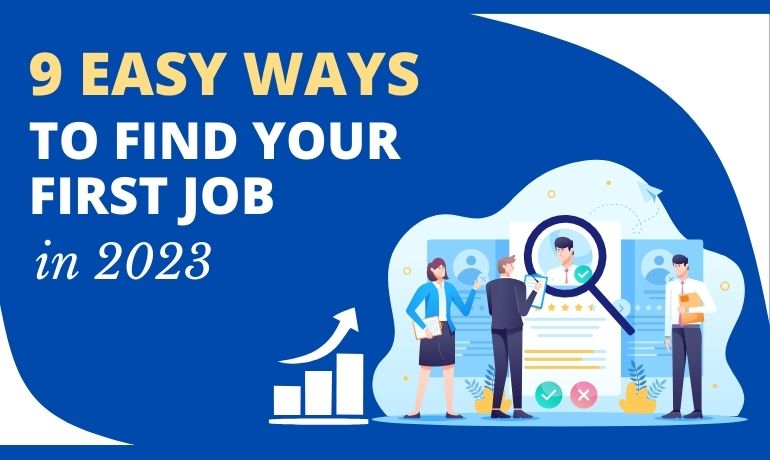 If you're trying to find jobs, online job searching can be a challenge. The number of options there is that it's easy to become caught up in the crowd and end up in a job that doesn't meet your requirements or interests.
However, there are various things to identify ways to get a new job that can open the doors to you, and allow you to start your career on a positive note.
The Internet has a wealth of job-searching resources, however, but not all are made to be the same. Some websites focus on helping job seekers find jobs in their area of interest, while others seek to connect employers to potential employees.
The most efficient and effective method to find employment is to search many different types of sites and then determine which ones are most beneficial.
Here are the 9 smart tips to find a job quickly
Finding a job isn't as complicated as it appears to be. This guide will break down the process of finding a career into nine steps. Follow the steps and you'll be on your way to securing the job you've always wanted:
1. Professional Networks – Your professional network includes every person you've ever worked for or with and everyone who has been a part of your journey to get an opportunity. This includes all bosses you've had in your life and your current boss, in the event that you have one and any other person in the field that you are familiar with.
If you're seeking work and are looking for a job, keeping in contact with people in the field is essential. There's no way to know how someone could be able to help you find a job. It can be as simple as notifying them of the kind of job you're seeking and making contact every month or so.
2. Referrals – Referrals can be as useful as professional networks as they are from people within your field who understand what's available.
They are able to be more specific in terms of what type of work is available and provide detailed information on their work experience in the sector.
They are also able to recommend candidates that fit the culture of the organization and job needs if there are open positions at their organization or within their network.
3. Talk to Friends and Family – It can be helpful to not overlook the importance of chatting with family and friends who have connections to people working in the same field or have connections to others who might be able to provide new opportunities to you.
4. Use Job Portals
For Full-Time/Part-Time Jobs
Indeed is the ideal option for those who want to learn what you can do to find part-time work.
Indeed is the largest job site in India. It lists over and the jobs of almost every major corporation in India.
Naukri is like Indeed however, it focuses on businesses that are seeking full-time employees.
They maintain a large database of job listings, including international firms.
Monster is an additional job website that is well-known among those looking for jobs in India.
They have an extensive selection of job postings and permit you to upload your resume at no cost.
Are you interested in knowing how to search for jobs on LinkedIn? LinkedIn can be described as a social network site that has millions of members across the globe.
You can make use of this site to meet people with similar interests that might be able to help you get a job or connect you to an individual who can assist you to locate one.
It's also a good place to build connections and network with people who can assist you in advancing your career or locate an opportunity to work in a different field later on!
It's a job site that is dedicated to helping you find the most suitable jobs.
It will help you find part-time and full-time positions including internships, jobs, and internships. It lets you search by area, industry, title, and many other criteria.
For Freelancing Jobs
Do you want to know how to find an online job? Looking for the highest-paying freelance jobs in India? The Freelancer platform connects employers with people who are available and who are looking for projects that require a short time. There are freelance opportunities on Freelancer websites for various categories like writing design and development data entry, content creation, and other categories.
The site provides a wide range of job opportunities, ranging from small companies to huge corporations. You can also search for the most lucrative freelance jobs within India here.
freelancer or have been in the business professionally for many years, there's a wide range of gigs that are available on Fiverr and you'll find the ideal gig UpWork is an excellent site to search for freelance jobs offered by companies that require assistance in their business.
UpWork currently has over 10 million jobs on its site, so there's a shortage of possibilities waiting for you there! You can search for job listings based on your specific location or keyword to find the right job to match your experience and skills at a particular level.
If you're looking to learn what you can do to find work on Fiverr If so, Fiverr is the option.
Fiverr is an online marketplace where freelancers offer their services at affordable prices so that anyone can hire them quickly and easily without having to negotiate rates or terms of service agreements first (it's called "micro-entrepreneurship").
It doesn't matter if you're starting out your career as ato suit your specific skills.
If you're interested in knowing how to locate online jobs check out Guru.
Guru offers a simple way to locate work on the internet, especially when you're searching for something that is specific to your needs, such as marketing positions and graphic design.
There are thousands of freelancing professionals eager to take on any project you have in mind, Guru makes it simple enough for quick and smooth delivery of the work!
5. Go to Job Fairs – Job fairs are a fantastic venue to meet employers aside from giveaways and food; they let you know about the companies that are hiring as well as what skills they're seeking.
Meet with recruiters and obtain their contact numbers to follow up with them later on when you're considering applying.
Keep a note of what they have to say about what they are looking for to know so that you can customize your application accordingly.
6. Contact Companies Directly – Contact them if you have a firm you'd like to join! Send them an email or letter with your resume included with a reason why you're interested to work there, and what experience or skills you possess that could be beneficial to their business.
You might not receive a response from every single person but some are open to the idea! If you aren't hearing from anyone within a couple of months of trying it, then it could be time to reconsider your options.
7. Try a Recruitment Agency – If you're looking to learn how to get a job quickly, then a private job consultancy firm could be an option. These agencies are excellent since they can access various job advertisements which aren't advertised (sometimes businesses only advertise job openings internally).
They also typically have connections to certain industries or regions and can therefore assist in finding positions that aren't advertised on the internet. Some recruiters charge fees per hour for services (typically about 15% of the initial salary) some offer no cost.
8. Try an Internship or Temporary Job – This is the best method to gain entry into the door and demonstrate your talents.
This is also an excellent method to enhance your resume, connect with experts in your industry and gain valuable experiences before you commit to full-time work.
9. Leverage Social Media – Social media is a great way to present your skills as a professional but it requires some time and energy. Utilize social media platforms to share your personality, work ethic, and talents.
In addition, these platforms can be used to locate job opportunities. How? Private groups frequently provide daily updates on job openings as well as the number of pay requirements, education, and work experience.
RELATED ARTICLES