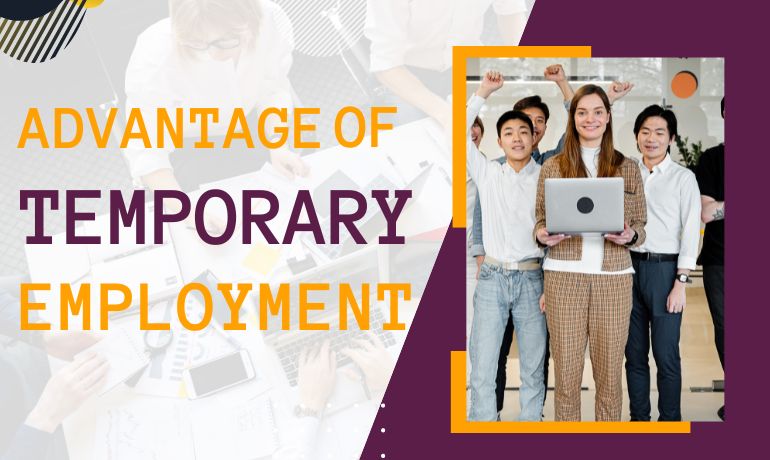 As companies look for ways to stay agile and competitive in the ever-changing business landscape, the benefits of hiring temporary employment are becoming more apparent. From providing flexibility in staffing needs to cost savings, the benefits of temporary jobs are numerous. This blog will explore the many advantages of hiring temporary employees and how they can benefit your organization.
What is Temporary Employment?
Temporary employment is a form of employment that is short-term and does not have predetermined start or end dates. It differs from permanent employment in that its duration is limited, and the worker does not receive the same benefits as permanent employees. Temporary work employment offers flexibility for both employers and employees, allowing employers to adjust staff levels according to changing business needs and allowing employees more freedom to pursue other opportunities. 
It is also an excellent opportunity for employers to test out potential new hires before committing full-time. Understanding the nuances of temporary employment is important for employers and employees to ensure a successful and mutually beneficial arrangement.
Following are the several advantages associated with temporary employment:
1. Quick and Easy Hiring Process:
The advantages of hiring temporary employees involve an easy hiring process. Hiring and on boarding temporary employees usually involve fewer steps and less paperwork than a traditional hiring process. This makes it simpler for employers to hire new talent quickly and with less effort. Additionally, the cost of hiring temporary employees is often lower than that of a full-time employee. 
Temporary Work Staffing makes it easier for businesses to bring in the talent they need short-term without breaking their budget. Furthermore, temporary employees often have higher levels of flexibility, allowing employers to adjust their staff levels to meet the needs of their business. Ultimately, the advantages of hiring temporary employees make them an excellent resource for businesses that need to bring in qualified individuals quickly.
2. Reduce Overall Staffing Costs:
Hiring temporary employees is a cost-effective way to reduce overall staffing costs. Temporary employees can provide specialized skills or fill in for regular employees during peak periods, saving companies money on wages and benefits. Additionally, Temporary basis employees can be hired for short-term projects. They can be dismissed once the project is completed, saving companies money on hiring and training a permanent employee.
Furthermore, hiring temporary employees is a great way to test out potential permanent employees, saving the company money if the employee is not the right fit. Ultimately, utilizing temporary employees is an effective way to reduce overall staffing costs.
3. Filling the Need for Staffing:
Temporary employment is an ideal solution for companies that must fill staffing needs quickly and cost-effectively. Hiring Temporary Jobs Employees can help businesses meet short-term demands, cover absences, and save on the costs of hiring and training full-time employees. Companies can choose from various staffing solutions, such as temporary workers, contractors, and freelancers, to meet their staffing needs.
4. Experienced Perspectives:
Hiring temporary employees by employers can give an organization a fresh perspective and better insight into how long temporary jobs can be. This can bring new ideas and views to the table that can help to provide unique solutions and insights to help the company to succeed. 
Additionally, hiring temporary employees can help employers fill gaps in their workforce without investing in full-time positions. This can reduce costs while providing a valuable resource to the organization. Hiring temporary employees can also foster innovation and creativity in the workplace, as bringing in new ideas and approaches can stimulate imagination and challenge existing processes.
5. Flexibility: 
Temporary employment offers a great deal of flexibility to both employers and employees. Temporary employees can be hired as needed, allowing employers to adjust their workforce to meet changing business needs quickly. This flexibility also extends to the employees, who can take advantage of part-time, short-term, or temporary employment opportunities to fit their lifestyle. 
Additionally, working as a temporary employee allows individuals to gain valuable experience and skills without making a long-term commitment to a single employer. Finally, temporary employment can provide a better work-life balance for individuals unable to commit to a full-time job.
6. Extra Support for Special Projects:
Hiring temporary employees can be a great way to provide extra support for special projects. This type of staffing can be used to provide needed short-term support for special initiatives or projects, allowing employers to get the extra help they need without committing to long-term hires. 
Additionally, since they are only hired for the project duration, there is no need to worry about the costs associated with a long-term hire. This makes it an excellent option for businesses that need an extra boost for a limited time.
Hire Temporary Employees the Right Way with TDS Group
TDS Group has facilitated the employers of all of India to provide the best staffing. This organization has been working for many years and has helped thousands of masses and companies find out the well-suited job or assist employers in hiring the best candidates for their firms. TDS Group is a certified organization renowned for its tremendous work. 
They also offer a wide range of training and support services to ensure your temporary employees are ready to hit the ground running. Our team can provide on-the-job and specific skills training to ensure your new employees have the necessary knowledge and skills to complete their tasks.
How TDS Group Can Be a Resource
When it comes to finding the right temporary employee, the TDS Group can help. We have an extensive network of qualified and experienced temporary employees who can fulfill your staffing needs promptly and professionally. 
We take the hassle out of the recruitment process, ensuring you get the right candidate for the job. For more information on how we can help you find the right temporary employees for your organization, contact us today!
RELATED ARTICLES