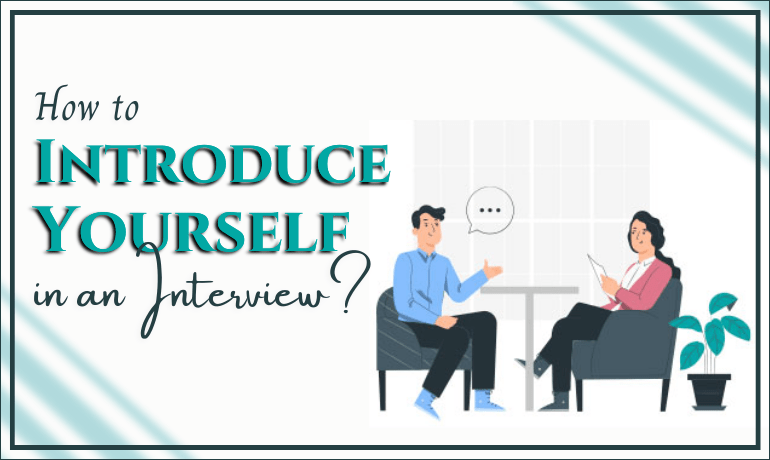 Your first impression of the interviewer is made during your introduction and serves as a way to represent yourself with all of your qualifications. The interviewer will evaluate your personality, behavior, and speech while you present who you are – thus, constructing an effective display by analyzing the way in which you introduce yourself.
It can be challenging to set forth a powerful self-introduction during an interview, however, learning how best to portray yourself determines many facets. A well-done introduction cultivates a beneficial atmosphere for the interview in the same way that dawn brings clarity to the day. This popular concept acts as an intermediary between you and the employing manager.
Here are some points to introduce yourself in an interview:
Who You Are [Name, hometown, some background information about yourself, and a description of your experiences]

What have you (your educational background) studied?

Concentrate on your work, prior professional accomplishments, internships, workshops, and accomplishments pertinent to the interview.

any professional experience or training

Moreover, some interests or pastimes
Important considerations when delivering an introduction:
Dress properly:
Making a good impression is essential when meeting someone new. The attire you choose for an interview lets potential employers learn more about you. Ahead of your employment interview, research the company's corporate culture; some offices may have different dress codes compared to others. An example is when attending an interview for a financial consultant job; it should look more professional than if this were a digital start-up. If you are unsure, ask your recruiter or someone in the office beforehand. This reflects your close attention to detail and eagerness to put forth the best possible impression. It's always better to play it safe and err on the side of professionalism.
Prepare your speech:
When you have a feel for the visuals, devise the initial few speech seconds of your presentation. Utilize the same guidelines when commencing a conversation with the individual in front of you since reassurance is as important as you kick off your verbal introduction. Broadcast your name with confidence to build a firm base. Refrain from being timid while speaking; you don't want to force others to strain to hear your name or repeat it. A clear volume demonstrates your assurance, passion regarding the opportunity, and wish to be respectful of other people's time.
Formally greet the Interview
An essential consideration when being evaluated during an interview is the introduction and greeting. During the first few minutes of exchanging pleasantries, the interviewer can get an idea of your level of assurance. Introduce yourself by giving a cheerful smile and giving a strong handshake. Then present your complete name succinctly. When speaking about family, supply only concise information. Be composed throughout the discussion while expressing confidence in everything you articulate. Keep direct eye contact with them and nod appropriately when necessary. This should begin the interview's introduction process properly.
Describe your educational background
After introducing yourself and giving any necessary details, explain your educational experience to the interviewer. Even if you have already stated it on your CV, you should offer an in-depth account of your scholastic background. When speaking about your achievements, be honest while preventing the impression of being boastful.
Give details about your professional experience (if any)
It is essential for all seasoned applicants to include all the comprehensive details of their prior work, along with their competencies acquired in the process. Explain the various internships and workshops that you have attended. The interviewer pays close attention to the precise details of your educational and occupational background when introducing yourself. Nonetheless, for newcomers, your academic accomplishments and extracurricular activities are an immense benefit.
Mention your interests and hobbies
Don't be afraid to switch the conversation to a casual tone. After describing your experiences, be sure to emphasize your interests—both personally and professionally—as well as your hobbies. Take care to retain the interview's formality and avoid veering too far from it.
Be ready for any follow-up inquiries
When in a job interview, you should be ready to answer follow-up questions after you present yourself. Employers typically ask these inquiries to test your honesty and principles. You can reveal whether what you said was truthful or not by responding to various questions regarding your introduction. Therefore, when introducing yourself during the meeting, attempt to be as sincere as you can, and anticipate having to answer these questions.
Conclusion:
Introducing yourself at an interview can be daunting, but it is important to start the meeting off on a positive note. Before the interview, it is helpful to practice introducing yourself out loud so you feel comfortable during the actual interview. Introducing yourself should be direct and concise; think about what you'd want to know if you were the interviewer.
Start by giving your name and a brief explanation of your professional background. Describe any related experience that may be beneficial for the job you're interviewing for.
Next, highlight some of your key skills or expertise that make you a great candidate for the role. Be sure to smile and maintain good eye contact while describing yourself – this will help create a friendly vibe right off the bat.
RELATED ARTICLES