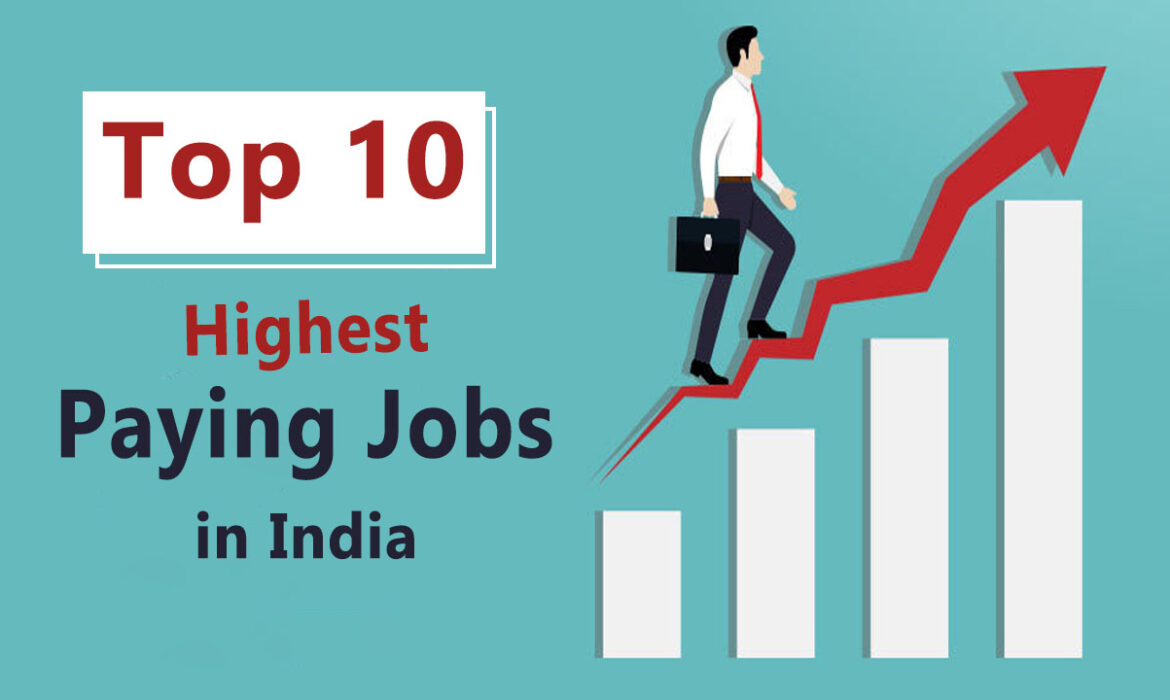 | | | |
| --- | --- | --- |
| Professions / Jobs | Average Salary | Highest Salary |
| Medical Professionals | 10 Lakhs | 17 Lakhs |
| Data Scientist | 9.5 Lakhs | 26 Lakhs |
| Machine Learning Experts | 6.9 Lakhs | 22 Lakhs |
| Blockchain Developer | 8 Lakhs | 21 Lakhs |
| Full Stack Software Developer | 6.7 Lakhs | 17 Lakhs |
| Product Management | 14 Lakhs | 35 Lakhs |
| Management Consultant | 11 Lakhs | 34 Lakhs |
| Investment Banker | 9.6 Lakhs | 33 Lakhs |
| Chartered Accountant | 9 Lakhs | 18 Lakhs |
| Marketing Manager | 7 Lakhs | 20 Lakhs |
It's no secret that a well-paying occupation is something we all desire. After spending so many years of education it isn't unusual to want a job that pays you what you are owed. But, it's not an easy job. The worldwide pandemic, along with digital changes and technological advancements have led to significant changes in the employment market. To make it easier for those of you who are looking for work, we've compiled an inventory of the most paid jobs in India.
There is no shortage of well-paying job opportunities, it is essential to know that salaries vary between different industries and organizations. Your earnings will also be contingent on your education along with your experience, skills, and. If you're a newbie or middle-class worker or an experienced expert, you have plenty of choices that offer the highest-paying jobs that are right for you.
We've put together an inventory of the top 10 salary jobs in India to be on the lookout for in 2023. The pay package isn't the only factor to be considered when searching for one of the top positions in India.
Here is the list of Best high paid jobs in India
1.    Doctors and Surgeons
Healthcare has one of the highest-paying jobs in India. Due to the increasing demands for physicians following the outbreak of the epidemic, the health sector is growing rapidly. Indian medical doctors, as well as surgeons, are highly compensated, with pay based on the specializations they specialize in, such as Optometry, Dentistry, Pharmacy, or other domains such as Healthcare Administration, Nursing and Medical Assistant Home Health Aide, and so on.
The median salary for healthcare experts in India is around 10 Lakhs per year. Over 25 percent of health professionals earn between 10 to 20 Lakhs per year. The median salary is 699,142 rupees for General Physicians to an amount of Rs11,59,833 for General Surgeon.
Top employers:
AIIMS (All India Institute of Medical Sciences)
Fortis
Apollo
Max
Columbia Asia
2.  Machine Learning Experts
Machine Learning (ML) is a sub-field of Artificial Intelligence (AI) that has grown in prominence across all industries. One of the highest salary jobs in India, AI, and Machine Learning are predicted to grow substantially in the coming years. Experts in Machine Learning conduct statistical analysis and design ML algorithms and programs that can be used to meet business requirements. Learn the A-Z to Machine Learning to gain work-ready skills and become trained for top positions in India.
It is estimated that the mean Machine Learning Engineer Salary In India is approximately Rs728,724. Engineers who have less than one year's experience can earn around one hundred and fifty-eight dollars per year. Professionals at the mid-level can earn around the equivalent of Rs698,443 per year, while senior professionals can earn as much as Rs1,948,718 a year.
Top Employers:
Accenture
IBM
ITC Infotech
Zycus
Quantiphi
3.   Full Stack Software Developer
The need in the field of Software developers which includes Full Stack Software Developers is on the rise and is also regarded as being among the highest paid jobs in India. Full Stack Software Developers are adept in the development of both the front and back-end of software or web site. They create websites completely from scratch, and the position is therefore one of the highest-paying job opportunities in India. If you've earned a bachelor's degree in IT or Computer Science, you can opt for an online specialization with a focus on full Stack Design and Development to enhance and increase your chances of becoming a Full Stack specialist.
First-time applicants to the field of Full Stack Development can earn an average wage of around Rs375,000 annually and mid-level developers who have 1-4 years of experience could earn up to 5533,000 annually as well as senior-level experts (5-9 years of experience) can earn up to Rs1,375,000 per year. A full-stack engineer is considered to be one of the top jobs available in India.
Top Employers:
Barclays
Dell
IBM
Siemens
E2logy
Simpalm
ChromeInfotech
4.  Data Scientist
Data Scientist is relatively new and one of the best-paid jobs in India which offers competitive wages as well as a variety of perks. The job is often referred to as "the most promising profession" according to LinkedIn, Data Scientist is an expert who gathers data, and analyzes, and interprets enormous amounts of data in an organization. People with a strong background in computer science, mathematics, programming as well as statistics, and analytics are able to pursue lucrative careers as Data Scientists in India. You will be able to secure the top jobs in India following the completion of this program.
Data Scientist is one of the best high-paid jobs in India with the average salary for a Data Scientist being Rs11,00,000 and experienced data scientists earning up to 60-70 lakhs annually.
Top Employers:
Amazon
Procter & Gamble
Walmart Labs
GreyAtom
5.  Blockchain Developer
Blockchain Technology can be described as the latest buzzword changing the way we think about things like Internet connectivity, currency transactions, and data security as in data handling. Both the public and private sectors are turning to blockchain technology to eliminate middlemen, cut costs and increase capabilities and speed. There's a shortage of skilled blockchain developers who can keep up with the growing need in the market for Blockchain creators in India to oversee and manage blockchain-related applications.
IT professionals or engineers who have an extensive experience in Computer Science, Mathematics, or Statistics could be aspiring to become a Blockchain developers. Blockchain technology can provide the most lucrative job opportunities in India.
The median salary for Blockchain Developers in India is around Rs 8,01,938 annually. Proficient professionals could earn as much as 45 LPA.
Top Employers:
Auxesis
Signzy
Primchain
SoluLab
Sofocle
OpenXcell
Elemential
MindDeft
6.  Investment Banker
One of the most lucrative jobs in India as well as around the world. Investment Banking is about helping clients invest their money in the right way to get the most effective returns on their investment. If you are a specialist in Finance and have an interest in providing financial service hosting, Investment Banking is the ideal career path for you.
Average Salary – 4-40 LPA
Pay Scale for Beginning Workers-  10-12 LPA
Intermediate and experienced Investment bankers with up to 30 LPA or more.
Top Employers:
Citibank
Deutsche Bank
HSBC
Goldman Sachs
JP Morgan Chase
7.  Management Consultant
Management Consultants assist companies in solving problems, increasing performance, and increasing growth. They are responsible for the structure, strategy operations, and management of the business.
After earning the bachelor's qualification from a school of Business Administration/ Economics/ Accounting/ Finance/ Management hopefuls can go on to pursue the MBA course to get into the highly sought-after industry in the field of management consultants. The MBA program will help you land the most lucrative positions in India.
The median salary for a Manager Consultant within India is about Rs11,49,770 per annum. Consultants at entry-level earn around Rs6-7 LPA while more experienced consultants make between Rs17 LPA.
Top Employers:
KPMG
PwC
McKinsey & Co.
Deloitte
Ernst & Young
Accenture
8. Product Management
Development, design, and management are quickly rising to the top of the Indian sector. The Product Manager is the next step that plays an essential position that is responsible for the development of strategies and marketing strategies, feature definition, and making predictions about products.
Product Managers need to be able to see the details and have a thorough understanding of the objectives of the organization related to the development of products. A Certification in Product Management will allow you to develop into an expert and gain access to the top positions in India.
The average pay for Product Managers within India is Rs14,40,000 a year. Beginning workers can earn around 7-10 LPA, whereas professionals with experience can earn between Rs17 and 26 LPA.
Top Employers:
Amazon
Google
Microsoft
Flipkart
Salesforce
Uber
Ola
9.  Chartered Accountant
Chartered Accountants (CA) are essential to every sector as they act as financial advisors. They provide financial advice to clients in how to manage their money effectively. The need for CAs grows each year, and is one of the highest-paying positions in India.
To become a certified CA, Commerce graduates must complete the CA course that is regulated by Institute of Chartered Accountants of India (ICAI), New Delhi.
Chartered Accountant salary starts at the amount of Rs6-7 LPA, and goes to as high as the amount of Rs30 LPA, or even more, based on experience and experience. The median salary is Rs789,396 which makes chartered accountants among the top paid jobs  in India.
Top Employers:
Standard Chartered
Ernst & Young
Deloitte
KPMG
BDO International
Grant Thornton International
10.  Marketing Manager
A Marketing Manager develops and implements the marketing strategies of a company to meet the demands of customers and maximize profits. They operate across every aspect of the business, and there has been growing exponentially and in increments. A bachelor's level in Marketing Management or Business Administration is the most basic requirement for a career in the field of marketing management. One of top highest paying jobs in India Marketing Managers develops new products and solutions that satisfy the company's objectives and customer requirements.
The average wage of marketing managers within India is around Rs7,01976 LPA.
Start-up salary of Rs4-6 LPA
Middle-level – – Rs10-12 LPA
Senior Level – Rs15-22 LPA
Top Employers:
IBM
Amazon
Flipkart
TCS
Tata Motors
RELATED ARTICLES